The 5th Annual Kennan Garvey Memorial Ride is coming on Saturday, August 25th. If you've already signed up or sponsored me or another rider, thank you! If you haven't yet, I hope you can join the ride or sponsor me for this great local non profit.
I encourage anyone who likes to ride a bike or likes to support great programs for young people to sign up. You can ride for as little or as far as you like on a great bike path that Kennan and I loved and rode often.
Although I'm very close to being able to ride my bike again, my new knee isn't bending quite enough for me to ride this year…but I signed up anyway! I'll be there for the beginning and plan to help out at one of the rest stops on the ride. If you can't ride, would you sponsor me with a donation? Or sponsor another rider? Or volunteer to help at the event?
Phoenix Bikes really is an extraordinary non-profit that does so much for kids and our community. Because of support from the Kennan Garvey fund and others, they will be moving into their much-needed new home at Arlington Mill in the next few weeks. Thank you everyone who has helped make this happen! But there are always needs for a rapidly growing non-profit like Phoenix Bikes. It means a lot to me that this ride keeps alive Kennan's passion for bicycling and helping young people.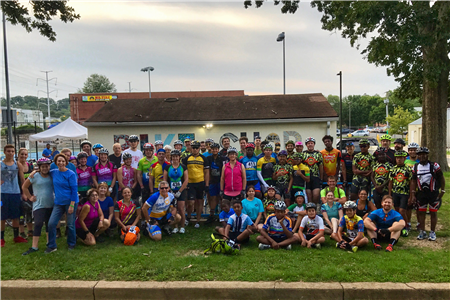 Here are some details about the ride: The ride this year is raising the funds for an urgently-needed new program vehicle to help keep Phoenix Bikes rolling. If you're not already involved, here are 3 ways to join the fun and make every mile count:
1) RIDE: When do you get to ride the W&OD trail supported by staffed pit stops every ~15 miles to greet you with water, snacks, maintenance support, and high fives? This year, all rest stops are at awesome bike shops along the trail with which we've partnered so you'll feel the love more than ever. And you don't need to do the full century! Just 15 miles and you're part of the ride. Here's the sign-up: https://www.bikereg.com/kgmr18. Please register by this Saturday, August 18th, at noon to ensure a shirt and lunch are reserved for you.
2) VOLUNTEER: We're still short 7 shifts! Please take a look at our online sign-up and see if you can lend a hand that day to help support all of our awesome riders. All volunteers get an event t-shirt and a lunch (if working a shift from 11am on).
3) SPONSOR A RIDER: We're just over $9k in fundraising, so getting there, but as this is the final push for a new vehicle, we're aiming to get closer to $25k over the final 2 weeks. There are 10 youth registered so far and your donation to their fundraising pages cheers them on for what will be personal best distances for most!
Thank you!