Dear Friends,
Given the significant spike in Covid cases here and everywhere, I wanted to send along the information below from Arlington County just before the holidays.
This is mostly not new information for any of us, but it is a reminder to get vaccinated, boosted and to wear masks. Also, please help our contact tracers if you do get Covid. We are all inclined to be more relaxed during the holidays, and I want everyone to have a great holiday season and be able to see friends and loved ones, but…. please be mindful of these cautions and reminders.
Wishing everyone good health and a happy holiday season,
Libby
~~~~~~~~~~~~~~~~~~~~~~~~~~~~~~~~~~~~~~~~~~~~~~~~~~~~~~~~~~~~~~
Arlington Seeing Significant Spike in COVID-19 Cases
Arlington County is seeing a significant surge in COVID-19 cases, with 268 new cases reported on Saturday, the highest single-day number recorded for Arlington during the pandemic.
As the transmission increases, Public Health leaders in Northern Virginia are encouraging residents to maintain their vigilance in curbing the spread of COVID-19 to minimize hospitalizations and deaths during this winter surge.

Public Health is strongly encouraging everyone help slow the spread:
Answer the Call. If you test positive for COVID-19, please answer the phone call from Arlington Public Health to receive further guidance. If we don't reach you, we will leave a message. In the meantime, please call your known close contacts to let them know they may have been exposed and encourage them to get tested, regardless of their vaccination status. (WATCH: The Importance of Contact Tracing)
Use Many Strategies to Slow the Spread. We ask everyone to use multiple, overlapping strategies to reduce the spread of COVID-19. Arlington Public Health wants to highlight some key strategies:
As always, please seek the advice of your healthcare provider if you have questions about your health situation. You may qualify for treatments authorized by the FDA for emergency use that can reduce your risk of hospitalization or death following close contact to or illness with COVID-19. Please visit our website for updated information.
Thank you for all you are doing to keep our community safe from the spread of COVID-19.
Vaccine Q&A: Omicron & the Holidays
For more information, please see the YouTube video with Hannah Winant, Public Information Officer for Arlington County Emergency Management. Please see the YouTube with Hannah is back to answer some of the most frequent questions we're hearing about COVID-19, traveling during the holidays, and the Omicron variant.
• How can I protect myself and loved ones during the holidays?
• Should I get tested for COVID-19 after traveling?
• Will Santa get COVID-19 as he travels to different homes?
Link: https://www.youtube.com/watch?v=8uQY_HQiLZg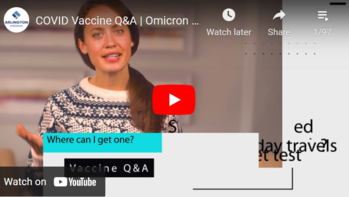 Questions about COVID-19? Call the County's public information line at 703-228-7999, Mon.-Fri., 9 a.m.-5 p.m.